Sihaya Hopkins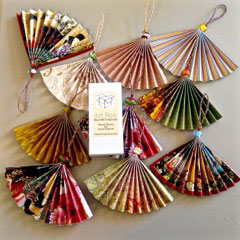 54 Main Street, Blue Hill, Maine
blosssomstudiobeads.com
Special for Art Box, my pendants are comprised of three complimenting handmade beads, stacked with a variety of gem stones, glass and pearls. Hung from colorful threads of waxed linen. Pop it over your head immediately or hang it from your favorite chain.
For Art Box summer 2016, I've taken my handmade glass beads and combined them with beautiful papers in the form of a fan. Folded into the machines slim boxes, your fan will emerge ready to be pulled open and hung somewhere special from its matching handmade loop. Some of my favorite spots for hanging are door knobs, windows, light pulls or the turn knob of a lamp. Anywhere with a little light will make the glass bead glisten. Stop by my Blue Hill Gallery to view larger fans, my line of jewelry, including birds, butterflies and botanicals, loose beads and much more.
Indulge in a love of nature and color.